eSanjeevaniOPD: DOCTOR AT YOUR HOME
Despite of the spectacular advances in the medical field, many people are still suffering from the right medication at right time. This may be due to the busy schedules in hospitals, not getting right time advice from the doctor, not reaching on time to the hospitals, etc. Such problems can be curtailed to an extend by using online consultation services with doctors and seeking their help on an immediate ground whenever needed.
eSanjeevaniOPD is a National Teleconsultation Service provided by the Ministry of Health and Family Welfare, Government of India in view of the above mentioned concern. This project aims to provide healthcare services to patients in their own homes. eSanjeevaniOPD service enables free of cost, safe & structured video based clinical consultations for a patient seeking medical help from the doctor. This video conferencing is done between a doctor and a patient. The key features of this application include: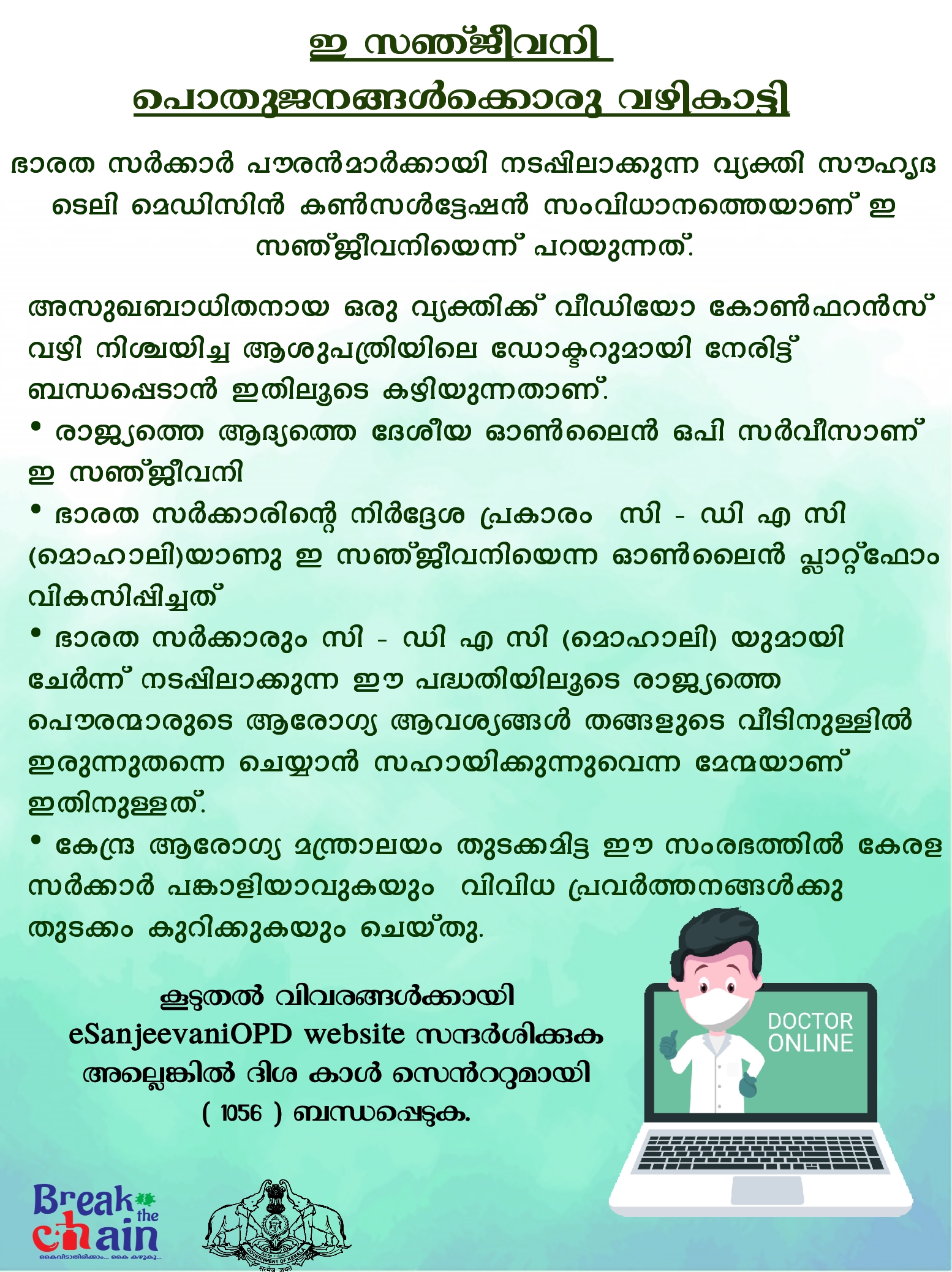 Patient registration
Family member registration
Institutional registration (like correctional facilities, Sr. Citizen Homes, Orphanages etc.)
Queue Management
Video Consultation with a Doctor
Instant messaging (text-based)
ePrescription
SMS Notifications
Serviced by Doctors employed
Free Service (managed jointly by State Governments & MoHFW, Govt. of India)
The flow of the application process is as follows:
Registration: the user verifies his/her mobile no. using OTP and then fills the Registration Form. You will then be provided with a patient ID
The user receives Patient ID & Token through SMS and the patient can upload health records if any
eSanjeevaniOPD sends an SMS notification asking the user to login using the patient ID
The patient enters the clinic and is placed at the end of the existing queue. If there is no queue you will be placed at serial no. 1
eSanjeevaniOPD assigns a doctor to the patient and the "CALL NOW" button is activated.
Click on the "CALL NOW" within 10 seconds the doctor shows up in the video and the patient can consult with the doctor.
The doctor at the end gives an ePrescription for the patient.